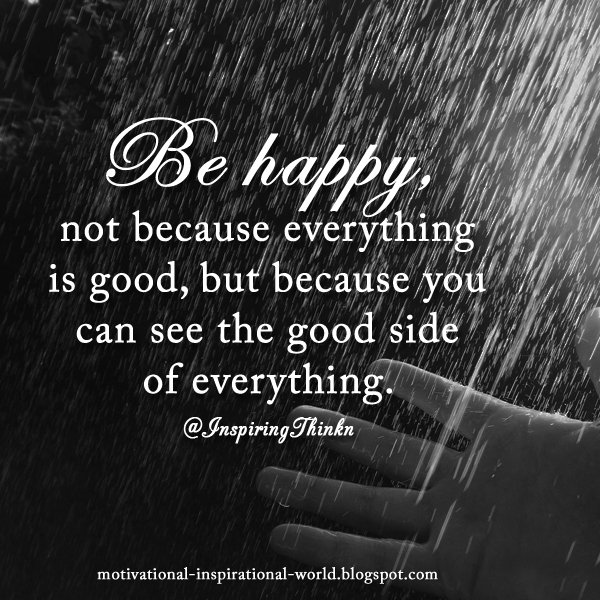 Het is wel algemeen bekend dat wij Nederlanders (en de rest van de wereld ook hoor) behoorlijk kunnen klagen. Probeer maar eens een dag door te komen, zonder dat je ook maar over één ding geklaagd of gezeurd hebt. Knap als je dat lukt! De kleine ergernissen kunnen vaak overgaan in irritaties en die irritaties zorgen weer voor slechte zin. Als je slechte zin hebt en je irriteert je aan alles, dan zie je ook alleen maar negatieve dingen en blijf je in die spiraal hangen. Na een nachtje slapen is dat vaak wel weg, maar het is toch zo verdomd zonde van je dag! Probeer positief dingen te bekijken. Lukt het niet in huis, laat je weer alles achter elkaar vallen, adem dan eens diep in en denk dan op een grappige manier wat een kluns je bent, in plaats van dat je gaat roepen dat het weer zo'n dag gaat worden. Probeer bij alles wat 'misgaat' een glimlach te vertonen en bedenk je dat dit de volgende keer niet meer gebeurt. Hoe anderen in het verkeer zijn, hufters of langzaam-aan-rijders, hoeft jouw humeur niet te bepalen. Bekijk alles met een lach, positief en zie er gewoon de lol van in. Dan zul je zien dat het ineens wél allemaal lekker gaat en de dag een stuk aangenamer en gezellig wordt. Hetzelfde geldt voor mensen.
Je kunt niemand in de kop kijken, maar je kunt mensen wel benaderen op een positieve manier. Alles wat je hoort over die persoon, negatief of positief, moeten niet op voorhand al bepalen hoe je over die persoon denkt.

Hou het open, leer de persoon zelf kennen en doe dat vooral op een positieve manier, want ieder mens is goed!
Je moet alleen de moeite doen om dat te zien.

XmelX
Don´t Forget to check out her Blog!
http//:www.kleinkaboutertje.wordpress.com
It is well known that we Dutch (and the rest of the world too) can complain properly. Just try to get through a day, without even complaining or complaining about one thing. Good if you succeed! The small annoyances can often turn into irritations and those irritations cause bad sense. If you are in bad mood and you are irritated by everything, then you only see negative things and you stay in that spiral. After a night of sleep that is often gone, but it is so damn sin of your day! Try to view things positively. If you can not manage it at home, let everything fall behind each other again, take a deep breath and then think in a funny way what a kluns you are, instead of going to say that it will be such a day again. Try to show a smile in everything that goes wrong and remember that this will not happen next time. How others are in traffic, hufters or slow-to-riders, does not have to determine your mood. View everything with a smile, positive and just see the fun of it. Then you will see that all of a sudden all goes well and the day becomes a lot more pleasant and pleasant. The same applies to people.
You can not see anyone in the head, but you can approach people in a positive way. Everything you hear about that person, negative or positive, should not determine in advance how you think about that person. Keep it open, get to know the person yourself and do so in a positive way, because everyone is good! You just have to make the effort to see that.

-XmelX-
Als je een kostbare en zeldzame, mooie en breekbare vaas in handen hebt dan zet je hem om op een veilige plek, nietwaar? Je plaatst hem op een veilige plek waar niemand zomaar bij kan komen… Je gaat er heel beschermend mee om en niemand mag hem dan ook zomaar in handen krijgen zodat er niets met de vaas gebeurd…
Ik vergelijk elk van ons met deze mooi zeldzame en kostbare en breekbare vaas. We moeten veel waarde hechten aan onszelf en onszelf beschermen. Just think about it, je kunt toch niet je innerlijke geluk, je leven en de waardevolle persoon de jij bent compleet afhankelijk zijn van een ander? Als je beseft hoe waardevol jij bent dan zul je niet zomaar  jou happiness en de unieke, mooie kostbare persoon die je bent zomaar afhankelijk laten zijn van een ander.
We are in Charge of our own Happiness!
If you have a precious and rare, beautiful and fragile vase in your hands, you put it in a safe place, do not you? You place it in a safe place where no one can come … You are very protective with it and no one can just get hold of it so that nothing happens to the vase …
I compare each of us with this beautiful rare and expensive and fragile vase. We must place great value on ourselves and protect ourselves. Just think about it, you can not do your inner happiness, your life and the valuable person the you are completely dependent on someone else? If you realize how valuable you are then you will not just let your happiness and the unique, beautiful, precious person you are completely dependent on someone else.
We are in Charge of our own Happiness!
See You on The Next Switch Quote!