Ohwww Yeah! Our first Switch Quote of the new month April 2018!
Ohw yessss!
Let´s get Started!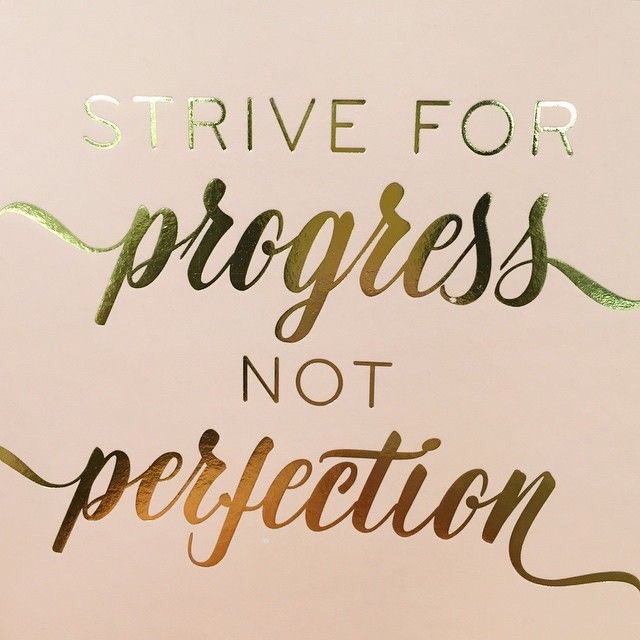 Bron foto: http://www.google.com
'' Streef naar progressie niet naar perfectie ''.
Iets waar je naar streeft wil je graag zo goed mogelijk doen. I Get that! Maar betekent goed doen ook meteen perfect? Als ik kijk naar mezelf dan verwacht ik dit vaak wel. Heb ik namelijk een doel voor ogen dan stel ik hier allerlei hoge eisen aan. Hiermee wil ik er vooral voor zorgen dat ik te allen tijde het beste uit mijn zelf haal.De hoge eisen stel ik niet alleen om mezelf uit te dagen maar ook om mezelf te bewijzen dat ik het simpelweg kan! Een soort van mind over matter challenge with myself zou je het bijna kunnen noemen, hahah. Maar of het realistisch is, tsja dat is maar de tweede vraag. Ik zal eerlijk zeggen dat deze mindset zo zijn voordelen heeft en soms ook zo zijn gigantische nadelen.
Zo vind ik het een groot voordeel dat ik bijvoorbeeld altijd zal doen wat voor mij goed en belangrijk voelt. Omdat ik zo dicht mogelijk bij mijn eigen krachten wil staan. Een groot nadeel is natuurlijk dat het voor teleurstelling kan zorgen of demotivatie. Door de lat alsmaar hoger te leggen voor jezelf, kan je er uiteindelijk natuurlijk zelf compleet aan onder door gaan. Desondanks, ben ik het zeker met deze quote eens. Zolang je, je focust op stappen voorwaarts en streeft naar verandering, is perfectie niet nodig. Elk begin is een begin en je hoeft niet pas trots op jezelf te zijn als het doel behaald is. Belangrijk is slechts dat je het haalt. Perfectie bestaat niet en daar word je alleen maar dood ongelukkig van naar mijn weten.
¨Streven naar progressie vergroot denk ik ook alleen maar de kans naar wilskracht. Perfectie is gewoon zo'n mooi fraai ding wat vaak te mooi lijkt om waar te zijn. Want wat voor de ene perfect is kan voor een ander een totale flop zijn.¨

-Grassiella-
Don´t Forget to check out her blog!
https//:www.belles-lettres.nl
" Do not strive for progress towards perfection ". Something that you strive for is what you want to do as well as possible. I Get that! But does it also mean perfect right away? When I look at myself, I often expect this. If I have a goal in mind, then I place all kinds of high demands on this. With this I want to make sure that I always get the best out of my self. The high demands are not only to challenge myself but also to prove to myself that I can do it! You could almost call it a kind of mind over matter challenge with myself, hahah. But whether it is realistic, that is only the second question. I will honestly say that this mindset has its advantages and sometimes so are huge disadvantages. For example, I find it a big advantage that I will always do what feels good and important to me. Because I want to stand as close to my own strength as possible. A major disadvantage is of course that it can cause disappointment or demotivation. By putting the bar higher and higher for yourself, you can of course end up completely underneath. Nevertheless, I certainly agree with this quote. As long as you, you focus on steps forward and strive for change, perfection is not necessary. Every beginning is a beginning and you do not have to be proud of yourself until the goal has been achieved. It is only important that you make it. Perfection does not exist and you only get very unhappy from it to my knowledge.
¨Sevening to progression, I also think only the chance of willpower. Perfection is just such a beautiful thing that often seems too good to be true. Because what is perfect for one person can be a total flop for another.¨

-Grassiella-
 
Bron foto: http://www.etsy.com
Yes! Kindness or kindness that is very far away nowadays … what it is about? Maybe the stress, the pressure that daily life entails, the bad weather or a bad mood? Honestly I don't know … but I do notice that people are nowadays more unhappy with each other. Especially against someone they do not know. And I personally find it very difficult to understand, of course it is not okay to be unfriendly, but let's be honest with each other, you can not get along with someone as well because of an incident or you just annoy someone for their presence. But then there is at least one reason for your unkindness. But what about if you do not know anyone at all? Well and it is very common that people or on the basis of culture or ethnicity treat someone friendly or unfriendly. Based on prejudice by things they've heard from someone else or any other reason.
I see this very often that people have become very selective in showing their kindness. What makes it seem that there is a price tag to show kindness. As this Quote says very nicely: Kindness is free sprinkle that stuff everywhere! Would it be much more pleasant if we would treat each other kindly? Of course we can have a bad day or play something in your private life that your head is not about to show kindness.
Let us certainly not be selective in being kind to each other! Everyone deserves to be treated with respect … I do my part, you will too?

-Miss B.-
Yes! Kindness oftwel vriendelijkheid dat is tegenwoordig heel ver te zoeken… waar het aan ligt? Maybe de stress, de druk die het dagelijkse leven met zich meebrengt, het slechte weer of een bad mood? Honestly I don´t know… maar ik merk wel dat mensen tegenwoordig onaardiger zijn met elkaar. Especially tegen iemand die ze niet kennen.  En dat vind ik persoonlijk heel moeilijk te begrijpen het is natuurlijk niet okay om onvriendelijk zijn maar laten we eerlijk zijn met elkaar, je kunt naar aanleiding van een incident niet meer zo goed met iemand kunnen opschieten of je gewoon al irriteren aan iemand zijn aanwezigheid. Maar dan is er tenminste een reden voor je onvriendelijkheid. But what about als je iemand totaal niet kent? Tja en dat komt heel vaak voor dat mensen of op basis van cultuur of afkomst iemand vriendelijk of onvriendelijk behandeld. Op basis van vooroordeel door dingen die ze maybe van iemand anders hebben gehoord  of welke andere reden dan ook. Ik zie dit heel vaak gebeuren dat mensen heel selectief zijn geworden in het tonen van hun vriendelijkheid. Waardoor het lijkt dat er een prijskaartje hangt aan het tonen van vriendelijkheid. Zoals deze Quote heel mooi zegt: Kindness is free sprinkle that stuff everywhere! Het zou toch veel gezelliger zijn als we elkaar vriendelijk zouden behandelen? Natuurlijk kunnen we a bad day hebben of speelt er iets in je privéleven af dat je hoofd er niet naar staat om vriendelijkheid te tonen.
Laten we zeker niet selectief zijn in het vriendelijk zijn tegen een ander! Iedereen verdient het om met respect behandeld te worden…

Ik draag mijn steentje bij, jij ook?

-Miss B.-
We See You on the Next Switch Quote on Wednesday with Demi Girl!